Solar Imperial II Lamp Post Light
Imperial II Solar Lamp Post- Single
This solar lamp post is a great way to dress up your yard, without using electricity.
Upgraded run times up to 72 hours on low / 36 hours on high!
The Gama Sonic Imperial II Solar Lamp Post - Single is made of weather-proof cast aluminum with beveled glass panels.
The GamaSonic patented reflector cone creates brighter light. This light has an 8 watt solar panel. Automatically turns on at dusk. The new improved lamps will run 36-72 hours!
Specifications 
Model: GS-97NS
LED Color: 6000K
Lumens: 300
Total LEDs: 21
Battery: Li-ion
Voltage: 3.2
Battery Capacity: 6000 mAh
Power Source: Mono-Crystalline Solar Cell
Light Duration: Up to 12 hours
Measurements: 10.5" x 10.5" x 97" (78" Pole + 19" Lamp) 
Additional Pole Sizes Available: 96" & 120" (Call: 1-800-985-4129)
21 Super Bright LEDs In Each Lamp Head
Bright White Light (6000K) Color Temperature
Commercial Grade Construction
8 Watt Heavy Duty, Tempered Glass Solar Panel
4 pack Li-Ion Rechargeable Batteries
Each Lamp Head Is 19"H X 10.5" W
2 Year Manufacturer Warranty


The GS-97NS is available with three different pole size options which include concrete mounting bolts for installation.
Product Video
Customer Reviews
10/16/2020
Dave D.
United States
These Are GREAT
These are GREAT!!! They have been raved about by all of the residents in our development....they LOVE them
09/15/2020
David C.
United States
Install may be tricky
Start with, it works great and looks great, exactly what I wanted. The anchors I received, if installed per the online mounting instructions were no way long enough to be sunk 2.5 inches into the concrete base and reach through the bottom of the base to fasten it to the concrete. I installed this pole where an existing pole use to be. I sunk a 12" wide 24" long round concrete form in to the hole, leveled it and poured it with concrete. I never intended to use the anchors anyway, so no problem. I used 6" stainless steel hex bolts with all stainless hardware. I did my calculations; from the bottom of the base I inserted the bolts and finger tightened the hardware and then set the base with the bolts hanging down into the concrete. The base is a little smaller in diameter than the 12" form. I took some scrap 1/8" paneling, cut 2 pieces longer than the 12" form and narrower than the spaces between the bolts. I placed them across the form and then set base on the paneling with bolts sinking into the concrete. Next day I slid the shims out and bolted the base tight, with the decorative caps covering the bolts and hardware. From base attachment to light install I leveled each step. Along the way some very minor tweaks had to be made. The top comes with 5mm, slotted set screws which had very small screwdriver slots. Had my doubts. I bought 5mm hex head set screws to replace them. Worked great. I was able to get a firm attachment without over torquing them. It's a great lamp. My neighbor was watching me over the course of three days it took me to complete the project. I know, why so long, I'm 78 with multiple joint replacements. My neighbor is now getting one after doing some recon one night to look at mine.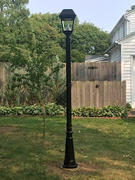 08/22/2020
KARL F.
United States
Replacing an existing electric post light
I love how brighter it is.
08/11/2020
Steve
United States