Contemporary Solar Pathway Light
Contemporary Solar Pathway Light
The sleek geometric design of this light allows you to install it in any area to complement your established style. Installing this light takes minutes. Simply find a sunny area, assemble the light to your chosen mounting option, and stake the fixture into the ground.
This beautiful light has a High and Low mode that you can manually adjust to your preference. You can also customize the color temperature of your light with the fixture's warm white or bright white settings. For optimum performance, regularly clean the solar panel with a damp towel.
After quickly assembling your light, simply stake the fixture into the ground. This light has an operation switch that allows you to switch between High and Low mode easily. For a softer light and longer operation time, choose Low Mode. For a brighter light that provides maximum visibility, choose High Mode.  For security purposes, you can choose to have this path light shining a bright white of 6000k. For regular use, choose the warm white setting of 2700K.

Maintaining this light is easy and allows for optimum operation. Simply run a damp cloth over the solar panel while applying a minimal amount of pressure. During the colder months, keep snow and debris off of the solar panel.  The light runs entirely on solar power, meaning there is no need for the hassle of electrical wiring or increasing energy bills.


Product Specifications 
Model: 117i90080
LED Color: 2700K/6000K
Lumens: 80
Battery: Li-ion
Voltage: 3.2V
Battery Capacity: 800 mAh
Power Source: Mono-Crystalline Solar Cell
Solar Panel: 2W
Light Duration: Up to 2 Nights (24 hours Low Mode / 12 High Mode)
Measurements: 17" x 6"
1 Year Manufacturer Warranty 


Documents
Customer Reviews
12/11/2020
David S.
United States
Expected broader illuminated area
Although it has a high lumen rating, I was expecting a larger illuminated area commensurate with that lumen rating.
12/05/2020
Richard S.
United States
Defective Part
Love the light, but one of the 7 units purchased arrived with a deflective metal bracket making installation impossible. Outdoor Solar was immediately notified and even though they were sympathetic, a month later they have not been able to get the manufacturer to provide a replacement. This renders the light useless. Outdoor Solar is supposed to stand behind the product. Thus far all they've done is tell me that they are waiting on Gama Sonic to respond. I did business with Outdoor Solar. Very disappointing and my first bad experience with this retailer. They say they "stock"... but they drop ship these lights from the manufacturer so buyer beware.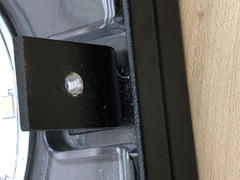 11/30/2020
Deborah C.
United States
Contemporary Solar Pathway Light
Brightest solar-powered light I've been able to find -- lasts through the night and produces the widest zone of light. Am ordering more.
11/26/2020
Richard S.
United States
Defective Part
Love the light and have been a loyal customer of Outdoor Solar. Purchased 7 of these Pathway Lights. One has a defective angle bracket for attaching the light to the pole. The screw hole in the metal part was drilled too large and not taped to accept the screw. It a a 25 cent part. I sent photos and and explanation to Outdoor Solar. They immediately responded but said they are waiting for the supplier (Gamma Sonic) to provide them with a response. I've been waiting a week or more and have written to inquire on status. Outdoor Solar should open another box and just send me the part. They can replace when they get the replacement from Gamma. I shouldn't be the one waiting; I purchased from Outdoor Solar. In the meantime I can't use the light. Disappointing service by Outdoor who has historically been great.
11/14/2020
donna t.
United States
Path lights
Great product. Sturdy metal which should last a long time in the elements. I like the options for the lighting. Too bad the bulbs can't be replaced.