Solar Top Disk Flag Light
Solar Disk Topper Flag Light 
The solar disk light is bright, durable, and perfect for residential flagpoles. This solar flag light is easy to install and lasts all night long. The sensor automatically turns 32 white LED bulbs (up to 120 lumen) on at dusk and the battery is large enough to last the duration of the night. It's not about the light, it's about the flag, and our solar disk topper flag light makes sure it's visible for all to see.

Don't be fooled by cheaper competitor lights that only have one row of LED lights and smaller solar panels. Our light is the brightest, longest lasting solar flag disk light on the market.
Product Video
Specifications
Model Number:

SDFL-32

Recommended for Poles Size: 17' to 25'
LED Lights: 32 
Brightness: 120 Lumen
Total Volts: 3.7
Battery: 4,400 mAh Rechargeable  
Run Time: 10-12 Hours 
Lifespan: 40,000 Hours 
1X Solar Panel 
1X Light
1 Year Manufacturer Warranty 


Our Light Versus The Competition 
Frequently Asked Questions
How does this light attach to the pole?
It attaches to the stem on the ball topper of the pole. It will fit pretty much any ball topper without a problem.
What is the weight of this solar disk light?
It is light weight at 3/4 of a pound.
What are the dimensions of this light?
It is 10" in diameter looking at it from the top. It's also 2" inches thick. The center hole is 1/2 inch diameter and will fit standard 1/2 inch diameter flag topper stems.
Not quite the flag light you're looking for? Check out all of our options here. 
Customer Reviews
07/31/2020
Craig M.
United States
05/04/2020
Glenn H.
United States
Excellent Flag Pole Light
I received my order very quickly. It fit perfectly on top of my flag pole I installed on my dock. The light runs all night and lights the flag beautifully! The 120 Lumen even lights up my dock. One of the nice things about the light is that it shines down and outward which lights up the whole flag when the wind is blowing it. Great product and I would definitely recommend it to a friend.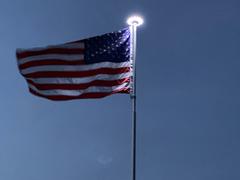 09/13/2020
Patricia U.
United States
Solar Top Disk Flag Light
I love the Solar Top Disk Flag Light. There are no problems installing and the light lasts a long time. I would recommend this light.
09/10/2020
James K.
United States
Solar flag light
Awesome!! This lights up my flag great and I received it really fast! Easy to install. Couldn't be happier with the light! I would highly recommend it to all.
09/04/2020
James R.
United States
200lum.solar
I am very happy to have purchased a 200lum. Solar light it works better than I thought it would, it stay on all night