Warm White Solar Coach Light
Warm White Solar Coach Light
This classic lamp with frosted glass will fit on any 3" standard pole. The solar power makes it easy to light up your yard without the need for electricity. This lamp features warm white LEDs with a 3000 Kelvin color.
There is an exterior On/Off switch, which makes it easy to switch from high to low. In the high setting, the light will run for 6 hours at full power, and then switch to power saving mode, which is half brightness for the rest of the night.
It will automatically comes on at dusk and turns off at dawn and will last up to 10 hours on a full charge. The light will need 8 hours of full sunlight for a full charge.
The Coach light is constructed of powder-coated cast aluminum that is weatherproof and will not rust.
Specifications
Model:

SGG-C99-V-F

LED Color: 3000K
Lumens: 180
Lighting: 10 Warm White LEDs 
Battery: Li-ion
Voltage: 3.7
Battery Capacity: 2000 mAh
Power Source: Mono-Crystalline Solar Cell
Light Duration: Up to 10 hours
Measurements: 10 x 11
10 Warm White LEDs in each lamp head
Warm White Light (3000K) Color Temperature
Commercial Grade Construction
8 Watt Heavy Duty, Tempered Glass Solar Panel
2 pack Li-Ion rechargeable batteries 
Each Lamp Head Is 10"H X 11" W
Pole Not Included 
2 Year Manufacturer Warranty


Customer Reviews
Solar coach light
This solar light works as advertised. Was a little skeptical at first but once we recieved the light and installed it we were not dissapointed. It goes on at dusk and maintains the same intensity of light till the morning. Very pleased with the product. Only complaint is it doesn't come with more detailed information on the operation of the light and how to replace the rechargeable batteries.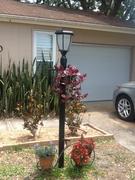 11/30/2020
Susan P.
United States
Not bright enough for my location.
Very nice lamp but not as bright as I needed so returned to get a stronger solar light. It did turn on with two street lamps near by so very pleased that ambient lights didn't effect it. Neighbors thought it was nice looking too.
11/27/2020
John R.
United States
Two coach lights
Bought and installed on new entry way posts. First observation was that the solar cells were different in layout. Units were pre-charged as directed, and installed area is clear of foliage, the units have not lasted more than 6 hours run time. Typical for one unit is 4 hours. Both do eventually come on but at significantly different times. They are spaced 16 feet apart.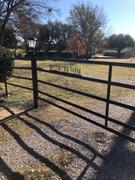 09/15/2020
Cynthia D.
United States
It is beautiful but will not work for my application. Under a street light. Customer service excellent.
07/03/2020
JOHN F.
United States
So far so good.
Good but it's only been a week. You should do these serveys after 30 days